Looking along any coastline in New England, you can find a soft rainbow of steep sloped roofs and weathered cladding. These simple box structures inspire an elegant, modest look of the historic colonial-style homes.  Moreover, they sprouted up to combat the harsh storms of the Atlantic for the new pioneers of the New England area. How did it become a prominent style home of throughout the United States?  Today, we'll take a look at the history of this style.
Pioneering Origins
The style originated from the Georgian Colonial of Great Britain that Puritans replicated in the New England area. The harsh climate on the coast proved treacherous for these types of homes so ingenuity came into play.  The settlers redesigned the homes into low, steep roofed cottages that would allow heavy snow to slide off. A central chimney warmed the entire home, which is why the ceilings were lower.  Shutters protected the windows from being battered by storms.
Settlers covered the typical Cape Cod style home of the time in wide, wooden clapboards or shingles.  The cladding then weathered to the distinctive gray that these style homes are often thought of.  These Cape homes had two distinctive symmetrical front windows on either side of the front door, no dormers, and almost no exterior ornamentation.
Colonial Revival
In the 1930s to 1950s, historic attractions such as Colonial Willaimsburg emerged.  They renewed an interest in the essence of the colonial style that developed in America in the 17th century. 
Royal Barry Wills, born in Massachusetts, was one of the more popular architects of the Colonial Revival.  He brought a modernized Cape Cod-style home to middle-class families at the time. Wills created features within the style for larger and expanding families, and incorporated garages into the design. Hence, he focused on accommodating the typical middle-class family, while keeping that New England "charm" to the home. Because of this, Wills brought this style back into popular architecture throughout the United States and Canada.
Present Day Cape
The Cape Cod Style is still a common colonial-style home in New England to this day. These homes are practical for brutal winters and Nor'easters.  In addition, they remind us of a time and place early in the history of the United States.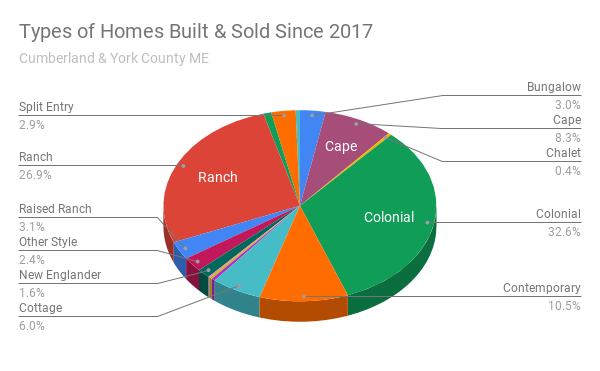 In this region, Colonial homes are still being built and sold, surpassing the popular Ranch and Contemporary type homes. Furthermore, Cape-Style homes takes the fourth highest type of home built and sold since 2017. Their elegant charm and modest shape helped form the look for the classic New England home.  Therefore, they remain a common fixture even today along the northern Atlantic coast of the United States.
Interested in finding your dream home? Reach out to us at The Real Estate Store to find out more!
Want to keep updated on local real estate listings, stories, and tips?  Follow us on Facebook or Instagram!