With the weather finally starting to warm up, we can begin to put winter behind us. As the snow melts away and grass starts to grow back, we are drawn to spending more time outside in the fresh weather. But while we are in the transitional time of early spring, there are some great spring projects to work on in order to be ready for the best parts of spring and summer!
Covid-19: Remember to avoid going to stores to buy items as much as possible. Many retailers are now offering curbside pickup where you can call in your order and pay by phone and they place the order in your trunk without having to interact. It's surprisingly hard to keep yourself from getting out of your car to help them and say thank you, especially since we are seeing so many less people these days, but it is very important. Also be especially careful with any projects that have the potential of injury. It's no time to be falling off a ladder and going to the ER!
General Cleaning
Nothing is more cathartic in Maine than being able to put away the shovels, salt, and winter gear during spring time. A good plan is to keep these items accessible till May when surprise snow storms should be over, but you can start the process a little early by sweeping/vacuuming out the old sand and salt in your mudroom or entryway. Even if there are a few more storms to come, this will help you get into the mindset of spring! Take time to clean out the boot tray and the bottoms of shoes. You can also start to put out more spring friendly attire and hats, along with sunscreen and insect repellent.
Winter has a way of keeping us less motivated to maintain our homes, especially when having to tackle with snow, ice, and less sunlight. Now is the perfect time to finally to do a deep cleaning! Beyond general vacuuming, sweeping, and dusting, you can tackle projects like washing curtains, cleaning windows inside and outside, and vacuuming upholstered furniture. This is also a great time to wash cabinets and backsplash in the kitchen as well as cleaning out the fridge. Clean off soap residue from shower doors, bases, and tubs to help prevent mold and mildew as the weather warms up.
Home Organization
Before you pack away winter clothes, take time to consider which pieces you wore throughout the winter. If you didn't wear it this past winter, you probably won't wear it again next winter. Create a donation piles for clothes that are still wearable but perhaps you don't want to keep around. Notice other things piling up in the closet like shoes, paperwork, and other storage? Take time to go through those too to decide what needs to be donated or recycled. This can help your closet feel cleaned and refreshed for spring.
This is a great time to look through your pantry and check expiration dates! Throw out items that are pass expiration, or plan to use them up in the next few days if they are approaching their date. You can also go through and write expiration dates in magic marker to keep better track of what needs to be used up! Just like with de-cluttering your closet, think about what items you have kept in the back of cabinet but haven't touched in a while. You can set it up front and try to use it in the next week or so; on the other hand, you could also consider donating if you don't plan to use it at all. After those steps, you can work on organizing similar foods together, adding baskets or trays to help you organize like items like dry goods and spices, and adding labels to containers for easy identification.
Outdoor Maintenance
You will want to sweep and clean the deck for any debris or leaves that have accumulated over the winter. Especially if you use a front porch frequently in the winter, it's important to sweep and/or rinse any excess salt to help prevent discoloration or corrosion. If you have outdoor furniture, make sure to give everything a good rinse or wash while checking for any damage. If you notice some rust or paint erosion on metal furniture, use a spray enamel to keep in protected from rain, humidity, heat, and sunlight in the coming months.
Now that most of the snow has melted away, you can start to go around the yard to do some lawn maintenance. Look for stray branches and debris that could damage a lawn mower. Rake any remaining leaves that can suffocate the grass as the weather changes. If you have outdoor water systems, double check to make sure they are working properly. This is also a great opportunity to check lawn mowers, trimmers, and hoses to make sure they are properly maintained!
Garden Planning
If you have hopes of starting a garden, now is a great time to plan ahead! The average planting season in Maine happens around mid-May once the fear of frost has mostly passed, but every plant has a different growing season and preferred planting time. Creating a garden calendar helps keep you organized on which plants to start! Take time to plot out areas that you want to grow in, build or buy raised garden beds if desired, and plan for trellises if your plants need them. This is also a great time to start a compost pile as the warmer weather will help the heating process of the compost~ take a look at this link to find out more!
https://www.maine.gov/dep/sustainability/compost/backyard_composting.pdf
Some vegetables, herbs, and flowers can be started indoors with careful planning which allows you to enjoy their blooms sooner or their harvest season longer! Seeds and seed starter kits can be purchased online, and make for a great weekend project. If you have leftover potting soil, you can look into creating your own seedling kits using recycled materials like old egg cartons or other left-over plastic containers. Then with some plants started inside, you'll be a step ahead once the weather warms up!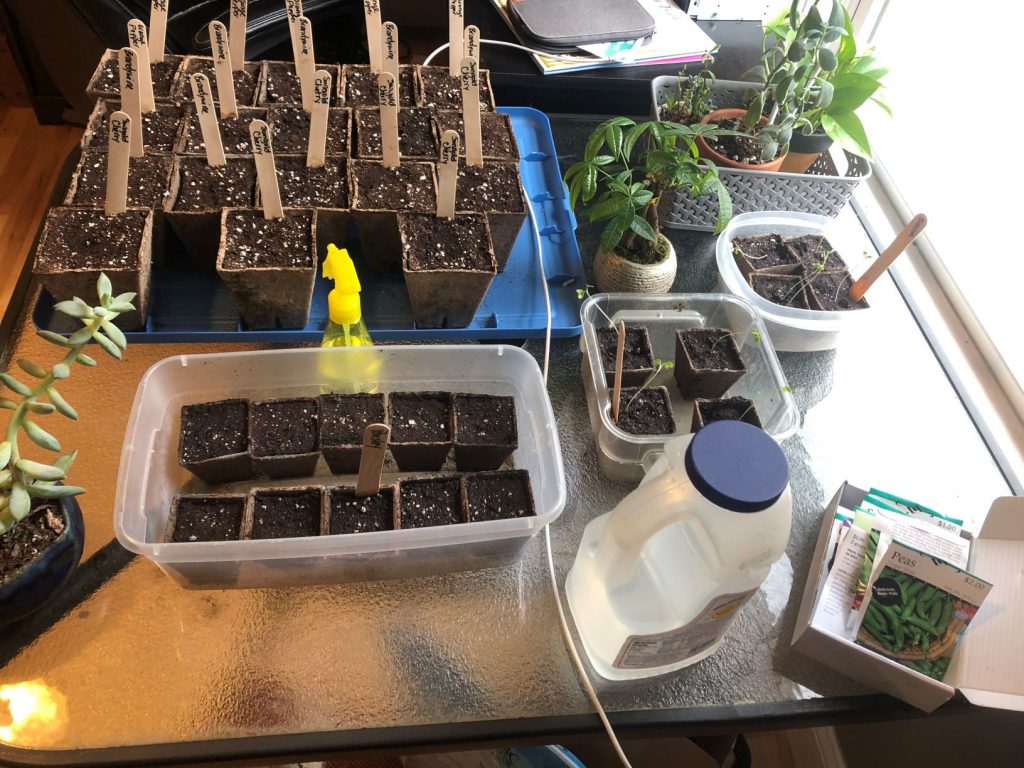 Tackling these tasks and projects early on can help you have more time to enjoy the later spring and summer time weather, while helping you get a fresh start to the end of winter!
You can always each out to the experts at the Real Estate Store to find out more about real estate!
Want to keep updated on local real estate listings, stories, and tips? Follow us on Facebook or Instagram!