For many sellers, an open house can be both an exciting and daunting process. Here is the first chance to have potential buyers come and view a property, but how does someone get ready to have that many people in their home? We've provided a few tips to consider when planning your open house: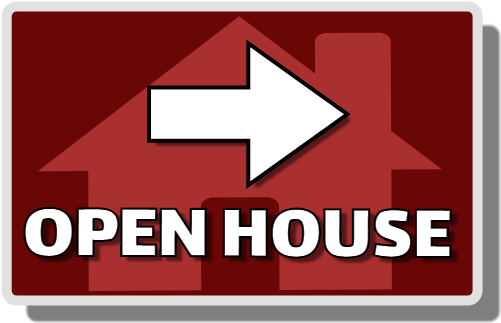 1. De-clutter, De-clutter, De-clutter.
Where ever possible, reducing clutter and putting things in cabinet or closets neatly is key. Buyers expect rooms to be sparse and neat like in a magazine.
2. Stage your home.
For people who are still living in their current homes, there are other options to bring your house to life without hiring a staging company. If you have time to plan, you should repaint any walls with an intense, bright color to a neutral/conventional paint. Depending on your budget, you could also look at getting updated kitchen hinges and knobs, and freshening up older/worn-out rugs. For smaller items that you can stage closer to the open house, you can add items such as: new towels in the kitchen and bathroom, a vase with flowers, a decorative bowl with fruit, and other small touches without adding too much clutter.
3. Spark your potential buyers joy.
Think about looking at a home from the perspective of the buyer: Would you want to walk into a home with dust, dirty, messy surfaces, etc.? Would you want to see cluttered walls and furniture when looking at a new home? A common tip that also helps in the staging process is to remove one piece of furniture from each room to help make the space look less cluttered.
4. Store away personal items.
A buyer wants to envision a potential home as a blank canvas, and allowing them to completely immerse themselves in that experience is essential.  This includes putting away things like such as family photos, knickknacks, children's arts and crafts, etc.  Also if there is a fixture that you are planning to take with you in the move, remove and pack it away so that a potential buyer has an accurate picture of how the house will look when they buy it.
5. Have a friend watch your pets somewhere else.
Open houses with many people can be very chaotic, and this can heighten your pets stress and anxiety levels. Some potential buyers may also have allergies to certain pets, and while it's important to make sure anyone who has strong allergies are aware that pets live in the home currently, you do not want to worsen their symptoms.
6. Make sure your home smells inviting.
Some people use artificial floral sprays or strong potpourris, but this can often set off allergies in potential buyers. Using natural cleaners with lemon or lavender scents when cleaning can help keep everything pleasant. The classic smell of freshly baked cookies can also make for a fun refreshment to give people during the open house.
7. Stay in the background.
During an open house, it is best practice to leave your home for the duration.  Let your real estate agent meet potential buyers and show them around.
8. Be open to feedback.
While an open house is a great way to stir excitement for a home on the market, you can also get quick and immediate feedback on things that may be fixed in order to bring up the value of your home. It can be upsetting after all of your hard work to hear negative feedback.  Just keep in mind that the goal is to get a sense of potential blind spots that you and your agent may not have seen as potential concerns for buyers.
Interested in having an open house? Talk to one of our agents today to find out more about the process!
Want to keep updated on local real estate listings, stories, and tips?  Follow us on Facebook or Instagram!